CSEC Software
Trusted by Leading CSEC Programs
Collaborate's specialized case management software for the response to Commercial Sexual Explotation of Children (CSEC) is used by hundreds of child advocates to coordinate over 6,700 units of service for more than 500 affected youth each year.
Case Study: Georgia's CSEC Response Team
The Children's Advocacy Centers of Georgia (CACGA) CSEC Response Team was established in 2020 to serve as Georgia's central point of contact for CSEC victims and the agencies that support them. The CSEC Response Team uses Collaborate to work closely with the 52 CACs across the state to coordinate the response to commercial sexual exploitation - from inbound referrals and MDT case coordination to assessments and ongoing counseling.
"Collaborate has made our workforce more efficient, it's helped with our data input, and the support team has been there to help us every step of the way."

Heidi Reese-Anderson
Director of Program Services, Children's Advocacy Centers of Georgia (CACGA)
Referral, Intake, and Initial Screening
"We receive referrals via hotline, web referral, or email, and from there, an Intake Specialist disseminates each referral to a Regional Care Coordinator in the appropriate region," explains Naeshia McDowell, Director of the Commercial Sexual Exploitation (CSEC) Response Team.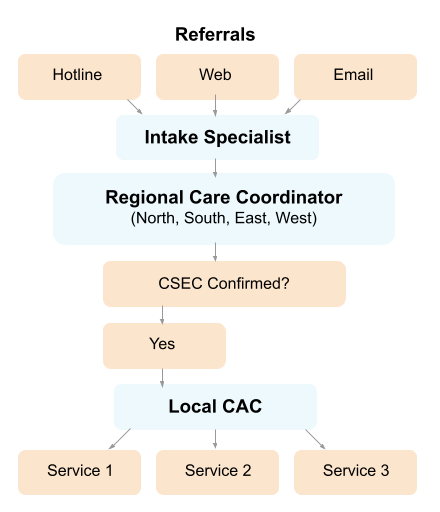 "From there, the Regional Care Coordinator reaches out to the referral source or non-offending caregiver to complete the Commercial Sexual Exploitation-Identification Tool (CSE-IT)," says McDowell. CSE-IT is a standardized assessment integrated into Collaborate, and ​​helps improve early identification of exploited youth by evaluating factors like:
Housing,
Health,
Relationships,
Coercion, and
Exploitation.
The built-in CSE-IT scoring tool helps advocates quickly confirm CSEC victimization - and get clients the help they need.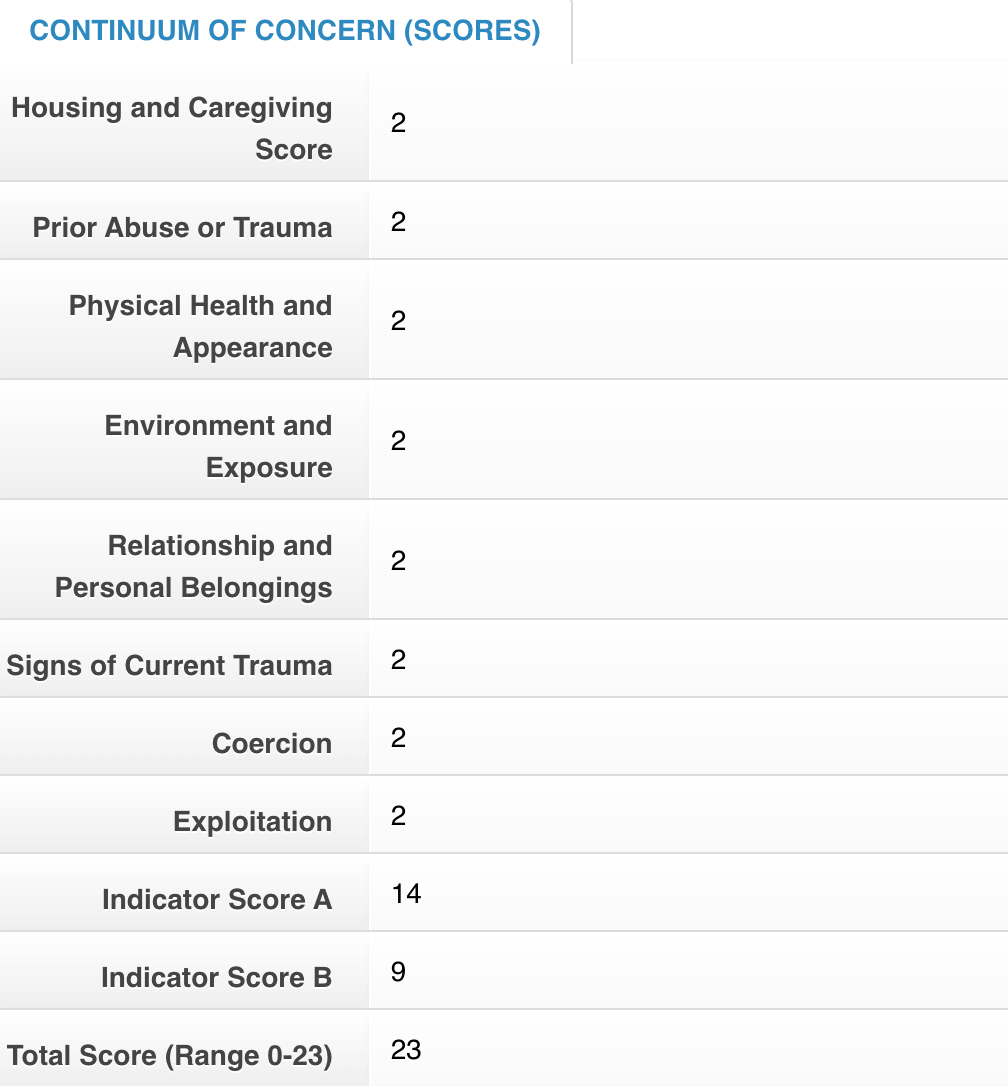 Coordinating with Local CACs for Services
"Once the client has been confirmed as a CSEC victim," McDowell explains, "the Regional Care Coordinator then works with a local Child Advocacy Center in that community to set up services like forensic interviews, medical exams, advocacy services, and address any additional needs the child or family might have."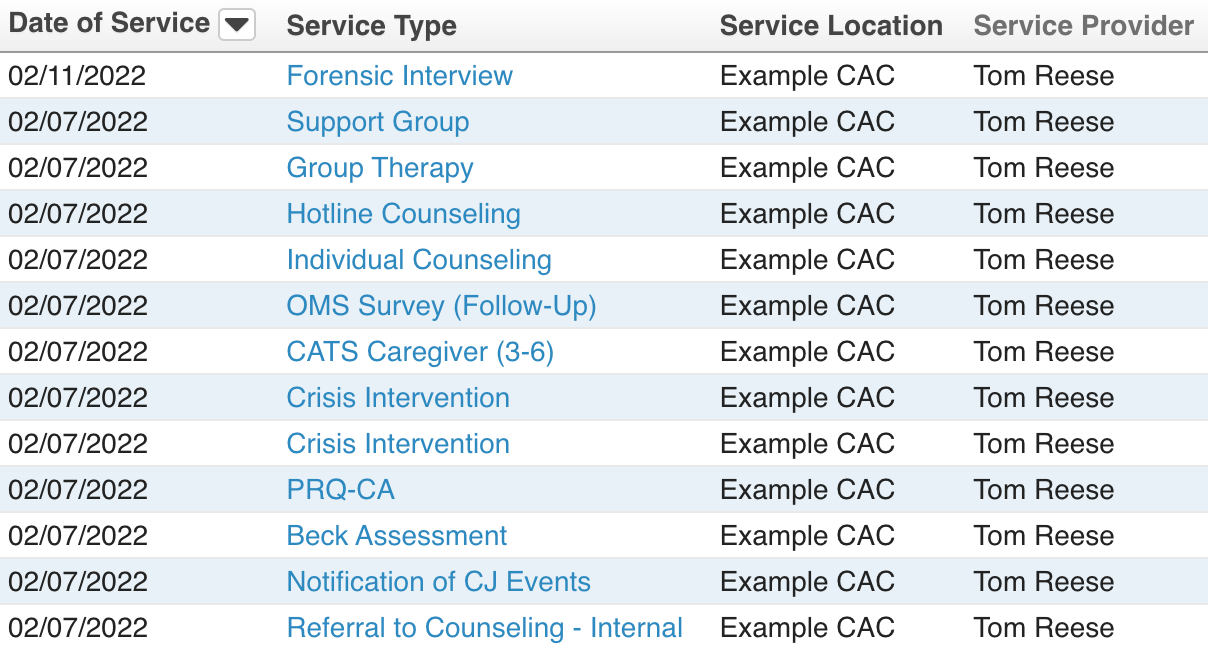 "Because CSEC cases are so much more complex than traditional child sexual abuse cases, it really requires a more collective approach. Collaborate helps us connect several agencies together to understand the client's needs and address them."

Naeshia McDowell
CSEC Response Team Director, Children's Advocacy Centers of Georgia (CACGA)
Data to Inform Funders & the Community
To quantify their statewide efforts, the CSEC Response Team runs several reports in Collaborate to tap data points like:
Agency contacts made,
Runaways (& safely recovered),
Client demographics (gender, ethnicity, sexuality, location), and
Services rendered to clients.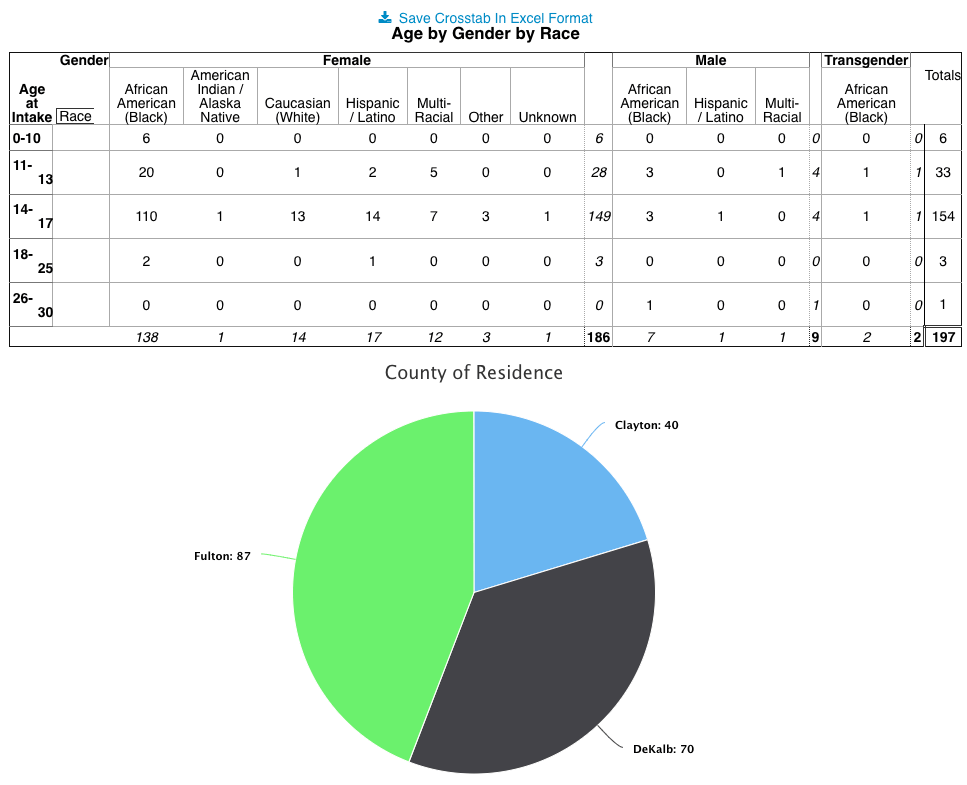 "We're able to really drill down into who our clients are - what types of kids are being impacted, and look for trends based on demographic data we collect, which we pass along to our funders and the community," notes McDowell.
What's Next for CSEC?
"One of our next target areas is to reduce recidivism in CSEC cases," says McDowell. "We're going to facilitate 'Ending the Game' trainings with clients to help address the mental and emotional manipulation that victims have experienced."
Data will be a key component of this effort as well, McDowell concludes. "In Collaborate, we plan to record whether clients have received this type of training, and the impact of it, to help demonstrate why it's beneficial to youth in the state of Georgia."
The Collaborate team looks forward to supporting Georgia's CSEC efforts for many years to come. To see how Collaborate can help manage your CSEC program - whether a standalone agency or statewide initiative - contact us today.
Industry-Leading Security & Compliance
HIPAA Compliant, SOC 2 Type 2 Compliant software, from an Amazon AWS Public Sector Partner.
Check out all the functionality designed for CSEC programs.