Collaborate News
Automated Referrals Promote Efficiency & Best Practices Across South Carolina
Data integration connects child advocates with referrals from the Division of Social Services in Collaborate.
---
Integrated Help, Right Inside Collaborate
It's now easier than ever to find the help you need, when you need it.
---
Collaborate is SOC 2 Compliant and HIPAA Compliant Software
Learn about the formal compliance assurances that help our customers keep their data safe.
---
Learn to Communicate Your Story with Data at the International Symposium on Child Abuse
Collaborate's data experts will share their best tips to impress funders and stakeholders at this year's virtual Symposium.
---
Data Shows That SMS Reminders Work
Save time, keep Clients informed, and increase Service Appointment attendance with SMS Reminders in Collaborate.
---
VOCA Reports, Made Easy
Developed alongside local and federal VOCA Administrators, Collaborate's Standard VOCA Report is simple, fast, and accurate.
---
Track Community Outreach and More in Collaborate
The new Activity Module is the ideal way to manage all your non-Case-related pursuits.
---
See Our Virtual HIPAA Compliance Workshop at the International Symposium on Child Abuse
The Symposium has gone virtual, and the Collaborate team will debut a special new HIPAA Action Plan there.
---
6 Ways to Speed Up Your Work in Collaborate
Tips to help shave hours off your schedule each week.
---
Collaborate Reports are Faster, Simpler, & More Powerful Than Ever
Collaborate's revolutionized Reports module empowers you to please your funders and improve Client outcomes.
---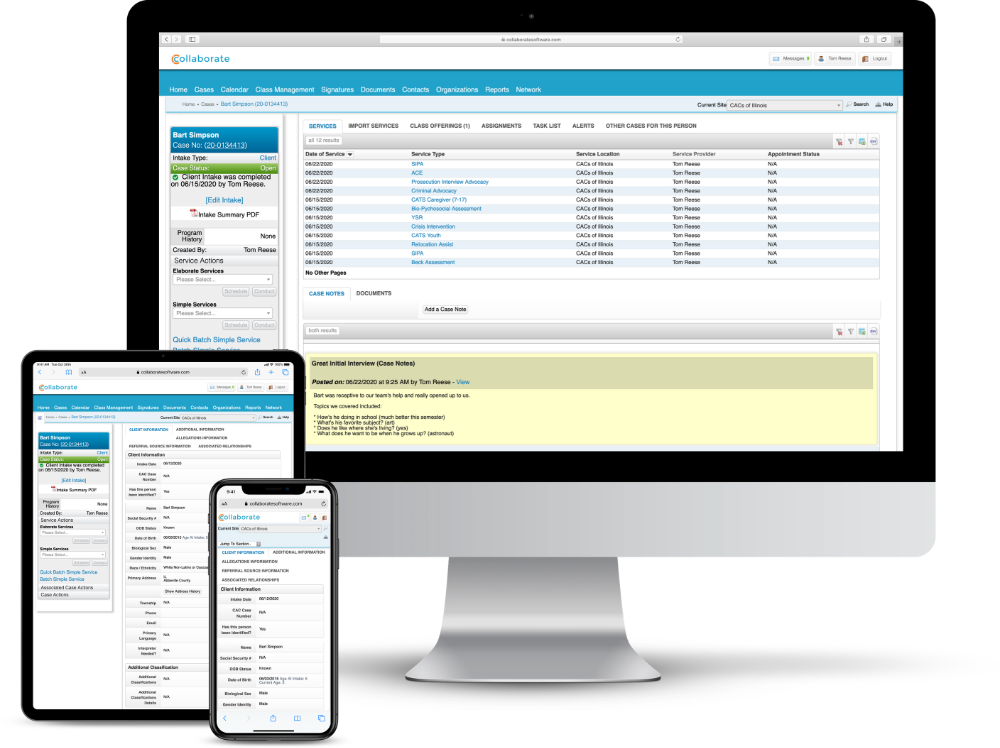 Collaborate is customizable case management software for non-profits and social services agencies.
Track case information, all the way through intake, providing services, setting goals, and recording outcomes
Go beyond the data with intelligent core features such as: case history, medical exams, test results, custom reports & more
Our award-winning web-based solution is secure & easy to use, whether a novice or a power user