Collaborate News
Data Shows That SMS Reminders Work
Save time, keep Clients informed, and increase Service Appointment attendance with SMS Reminders in Collaborate.
---
VOCA Reports, Made Easy
Developed alongside local and federal VOCA Administrators, Collaborate's Standard VOCA Report is simple, fast, and accurate.
---
Track Community Outreach and More in Collaborate
The new Activity Module is the ideal way to manage all your non-Case-related pursuits.
---
See Our Virtual HIPAA Compliance Workshop at the International Symposium on Child Abuse
The Symposium has gone virtual, and the Collaborate team will debut a special new HIPAA Action Plan there.
---
6 Ways to Speed Up Your Work in Collaborate
Tips to help shave hours off your schedule each week.
---
Collaborate Reports are Faster, Simpler, & More Powerful Than Ever
Collaborate's revolutionized Reports module empowers you to please your funders and improve Client outcomes.
---
Collaborate Concierge: Your Ticket to Advanced Analysis & Support
Take your software usage and analytics to the next level with dedicated access to Network Ninja's experts.
---
Introducing Collaborate for CSEC Programs
The global standard in Children's Advocacy Software is now optimized for CSEC Response.
---
With SMS Reminders, Clients Will Never Miss an Appointment
Send alerts on upcoming Service Appointments and more - straight to any mobile phone.
---
Record & Track CANS Assessments in Collaborate
Standardized tools help you plan Client Services, improve care, and impact outcomes.
---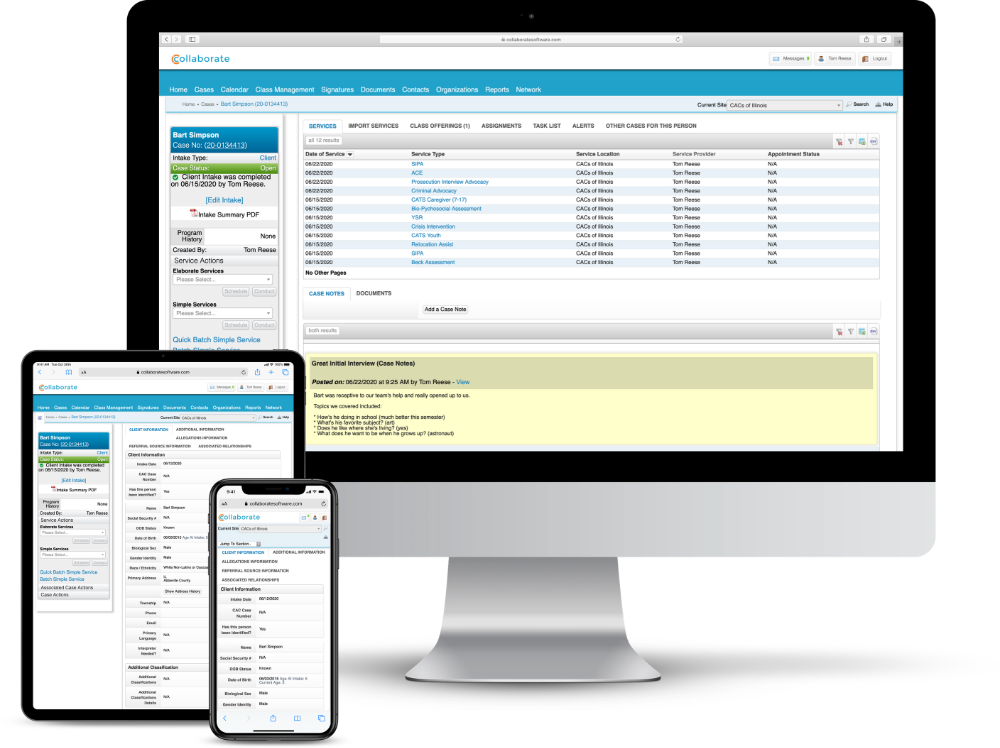 Collaborate is customizable case management software for non-profits and social services agencies.
Track case information, all the way through intake, providing services, setting goals, and recording outcomes
Go beyond the data with intelligent core features such as: case history, medical exams, test results, custom reports & more
Our award-winning web-based solution is secure & easy to use, whether a novice or a power user