Case Management Software for Social Services
Empowering better data, better outcomes.
Get a Demo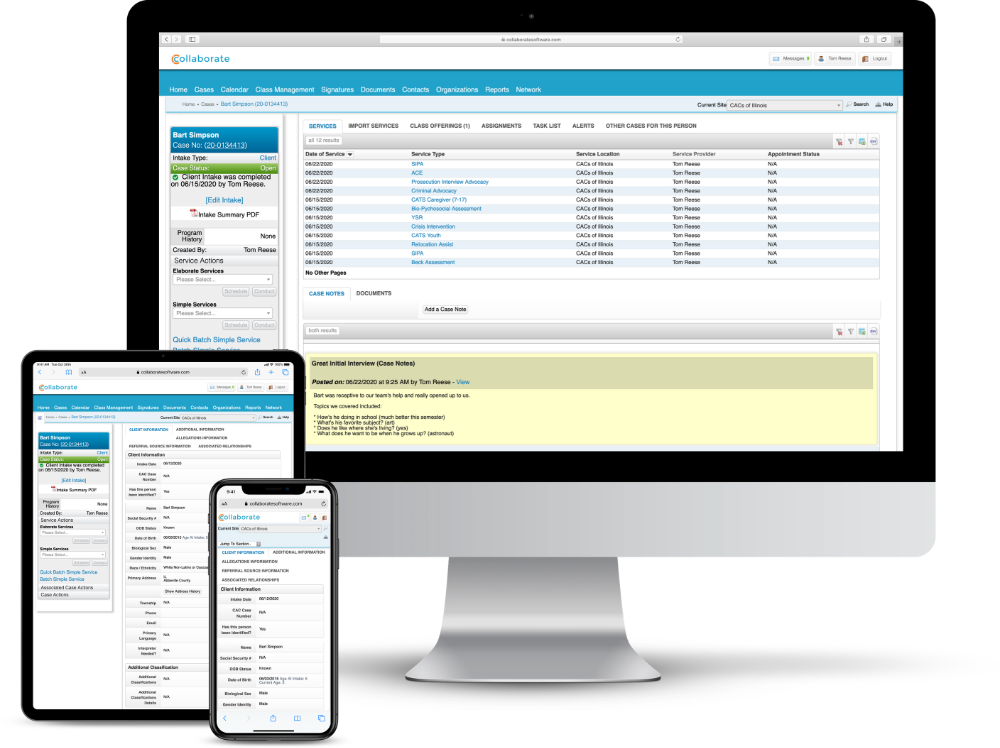 Simplify Data Collection
Deliver Accurate Reports
Serve Clients Better
Children's Advocacy Centers
Rape Crisis Centers
At-Risk Youth Programs
Substance Abuse Treatment
Health & Wellness Programs
Sexual Assault Coalitions
Domestic Violence Shelters
Family Centers
Corrections Departments
Housing Programs
Domestic Violence Coalitions
Homeless Shelters
Women's Programs
General Assistance
Veterans' Affairs Offices
If you manage Clients, Cases, Services, and Reports, you need Collaborate.
Collaborate is customizable case management software for non-profits and social services agencies.
Track Case information, from Intake, providing Services, setting Goals, to recording Outcomes.
Efficiently access Case history, medical exams, test results, custom Reports, and more.
Tap a single, secure, HIPAA-compliant, easy-to-use, web-based platform for all your Case management needs.
"The Ninjas have a keen understanding of our need to be able to process and access a deep analysis of our data."

Adam Rosenberg
Executive Director, Baltimore Child Abuse Center
"Our staff found that Collaborate is easy to navigate, and was customized specifically to streamline services and data entry."

Kelli Mukaddam
Data Specialist, National Children's Advocacy Center
"Prior to Collaborate, we were using paper charts, which are hard to manage, and even harder to compile data from for grants. Now everything is easy to access, and complete."

Katie Plax MD
Director, Adolescent Center, The SPOT/Project Ark, Washington University in St. Louis
"Network Ninja would come up with innovations and solutions that went far beyond anything I could imagine. It's like partnering with architects, engineers, and systems designers!"
Katherine J. Mathews
Director of Clinical Service, Casa de Salud
Network Ninja has been developing software since 1998, with three successful products across three sectors.
100% independently owned and operated.
55+ employees, including software developers, business analysts, support specialists, civil legal aid advocates, and social workers.
Dedicated data migration team with hundreds of successful migrations from legacy systems.
HIPAA Compliant, SOC 2® Type 2 Compliant software, from an Amazon AWS Public Sector Partner.
Organizations rely on Collaborate to manage and report on their Case data.
5.14 million
Cases managed in Collaborate
61,000+
Cases added each month
3,000+
Daily active users