Your peers - our clients
Children's Advocacy Centers of Georgia
Member of the National Children's Alliance, The Children's Advocacy Centers of Georgia, Inc. is Georgia's statewide membership association of 46 local children's advocacy centers.
"Network Ninja is enthusiastic and supportive of our mission, and understands the nonprofit world. Having a cutting edge software company behind us, one that develops friendly but powerful software, that's a unique combination."
Andrew H. Agatston
CEO and General Legal Counsel
46 networked Children's Advocacy Centers (CACs), each with own private customizable instance
CACs able to search through entire state database of clients, caregivers, and offenders
Statewide reporting
Mix of Multi-Disciplinary Teams (MDTs) and non-MDT children's advocacy centers
500+ users, years of case data, tens of thousands of cases, hundreds of thousands of services
---
The LGBT Community Center
New York City's Lesbian, Gay, Bisexual & Transgender Community Center empowers people to lead healthy, successful lives.
"The data that Community Services is now able to secure and analyze from Collaborate is being used for both departmental and programmatic evaluation to make more informed and strategic decisions in regards to future visioning, strategic planning and marketing campaigns."
Cynthia Nuara, MPA
Director of Administrative Services
Elaborate case notes and status tracking
Mental Health and Medical focuses
On-site labs and referrals, including STD testing and results tracking
Group counseling and Community Outreach
Sophisticated reports and integrations, including Medicare, Medicaid, and Private health insurance (UB-04)
---
Douglas County Department of Corrections
The Douglas County Department of Corrections promotes public safety by effectively managing individuals in secure custody and Community Corrections by offering programs to prepare individuals to successfully return to society.
Serving multiple departments, National Commission on Correctional Health Care and ACA accredited
Second Chance funded
Class Management, Work Release, and RAP (Re-entry Assistance Program)
Service focuses include Substance Abuse, Mental Health, Education, and Medical
Integrations with other County department databases, can share information when appropriate
---
Hope For The Warriors
Hope For The Warriors works to enhance the quality of life for post-9/11 service members, their families, and families of the fallen who have sustained physical and psychological wounds in the line of duty.
"As we launched our new database the Network Ninja Team has shown impeccable dedication to ensure we had a seamless day. There was not a curveball we could throw that the Ninja Team didn't hit out of the park."
Rob Cork
Operations Director
Portal that allows HFTW clients to request services, fill out forms, and check appointment schedules
Direct correspondence between staff and clients
Complete Biopsychosocial (BPS) model processes
Other services tracked include financial assistance, career transitioning, and spouse & caregiver scholarships
---
The Spot / Project Ark
The Spot / Project Ark is a cooperative focusing on social justice and health care for at-risk youth.
"Prior to Collaborate, we were using paper charts, which are hard to manage, and even harder to compile data from for grants. Now everything is easy to access, and complete."
Katie Plax MD
Director, Adolescent Center
Collaborate facilitates all data management and reporting for SPARK
Medical services, mental health counseling, sexual and reproductive health services
Work development / workforce coaching services
Substance abuse counseling
Fully electronic medical records, charting, even immunization records
---
New York City's YMCA
The YMCA of Greater New York is committed to serving the immigrant population of the City, and, in response to their needs, has opened New Americans Welcome Centers to help immigrants achieve literacy, cultural competence, and self-sufficiency.
"We are impressed by the robustness and capacity of Collaborate. We are excited about the new and upcoming features and functions we are able to create and implement, which will only increase our efficiency and performance. The ability to always improve and customize to our needs is priceless!"
Rachael Rinaldo
Program Director
Learning management for all of Greater New York's YMCAs
21 sites, 100s of users, tens of thousands of students
Collaborate manages their Class Offerings, Workshops, Lesson Plans, and Certifications
iPad support for signing intake documents and learning management attendance sheets
Web-based software key for such a spread out user-base
---
Casa de Salud St. Louis
Casa de Salud Provides clinical and mental health services to uninsured and underinsured, with a focus on new immigrants and refugees.
"Network Ninja would come up with innovations and solutions that went far beyond anything I could imagine. It's like partnering with architects, engineers, and systems designers!"
Katherine J. Mathews
Director of Clinical Services
Electronic medical records management
Medical Examinations and Immunizations
Manage lab and service costs, including invoicing
Assessments, Plans, and Instruments
Call tracking and followup
---
Assist America
Assist America is the nation's largest provider of global emergency medical services through employee and student benefit plans.
"The best new feature in the transition from our old system is the ability to create a case from start to finish in one panel."
Kip Gibbs
VP of Global Operations
Call center management
Worldwide 24/7/365
Sophisticated security tools
Regional management
Dozens of diverse and customized services for thousands of clients a year
From medical assessments to legal consultations, 33 trackable services and counting
Document management
---
Douglas County General Assistance
The Douglas County General Assistance provides for the poor of the county who are not eligible for any other governmental assistance and do not have a parent, step parent, or spouse responsible for their support. These are "programs of last resort".
Primary care healthcare
Job training and community service
Financial assistance
Referrals
Fully electronic workflow, entirely phased out paper. Using tablets for client sign-off on documents.
---
The Dee Norton Lowcountry Children's Center
The DNLCC coordinates with more than 30 partner agencies in the community as a multi-disciplinary team to take appropriate action and put a plan in place for the child and family. Since 1991, DNLCC has helped over 21,000 children and their families.
MDT oriented Children's Advocacy Center and charter member of the National Children's Alliance
Diverse services, including Medical Examinations, Forensic Interviews, with heavy involvement by Law Enforcement, Prosecution, DSS, and Family Court
---
Children's Advocacy Center for Denton County
The CACDC is a child-friendly place where kids come to find help after incidents of sexual abuse.
"This begins a whole new chapter; Collaborate will help us find new and amazing ways to tell our story. Even more so, because of improved efficiency, it will allow us more time to focus on the main characters of our story."
Lori Nelson
Program Director
Heavy Clinical focus
Ties Therapy, Clinical Testing, Treatment Plans, and Progress Notes together in one place.
Multiple locations, security permissions for each.
---
These folks, too
---
Other spaces that Collaborate works for
Second Chance Programs
Departments of Corrections
Substance Abuse Treatment & Prevention
Rape Treatment Centers
Community Outreach
At-risk Youth Services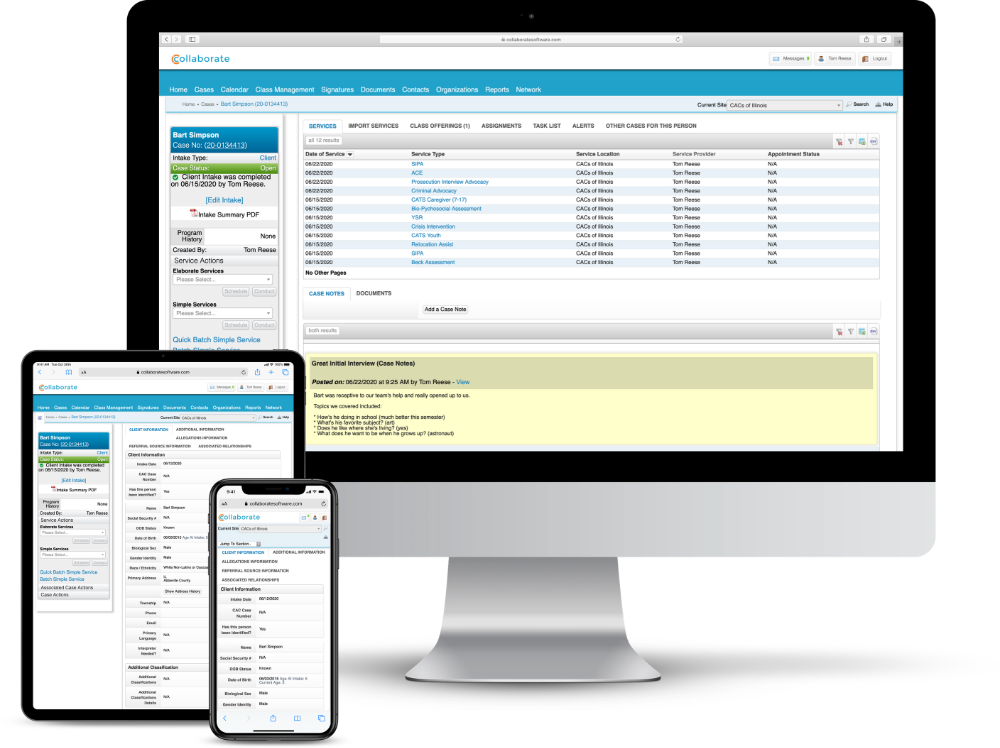 Customizable case management software for non-profits and social services agencies.
Track case information, all the way through intake, providing services, setting goals, and recording outcomes
Go beyond the data with intelligent core features such as: case history, medical exams, test results, custom reports & more
Our award-winning web-based solution is secure & easy to use, whether a novice or a power user