Collaborate News
Quick Batch Simple Services, Courtesy of the Children's Advocacy Centers of Mississippi
When CACM asked for a more convenient way to record large groups of Client Services, the Collaborate team was up to the challenge. Now all Collaborate Users can benefit from a new feature called Quick Batch Simple Services.
---
Come See Our Joint Workshop with National CAC at the 34th International Symposium on Child Abuse
SAVE THE DATE! March 19-22, 2018, Huntsville, Alabama.
---
Universal Intake Is a Time Saver
From paper to online in less than 5 months.
---
Sunshine and Wolverines
More than 60 new CACs join the Collaborate community.
---
For Non-Profits, Cash is King
How Children's Advocacy Center of Hamilton County won $1000 in our raffle at the National Children's Advocacy Center Symposium.
---
Big Plans for Texas
Children's Advocacy Centers of Texas has been working with us to implement the perfect statewide solution for CACs.
---
A Focus on the Wellbeing of Kids
Introducing 3 new Collaborate clients that have a positive impact on children and families that really need it.
---
Network Ninja donates $1000 to One Lucky Non-Profit!
What a fantastic week in Dallas at the 28th Annual Crimes Against Children Conference!
---
Introducing Collaborate for Networks
For groups that need to communicate and securely share sensitive data between other organizations that use Collaborate.
---
Collaborate Launch Insights for the Denton County CAC
With 40,000 cases, 400,000 services, and over 250,000 case notes!
---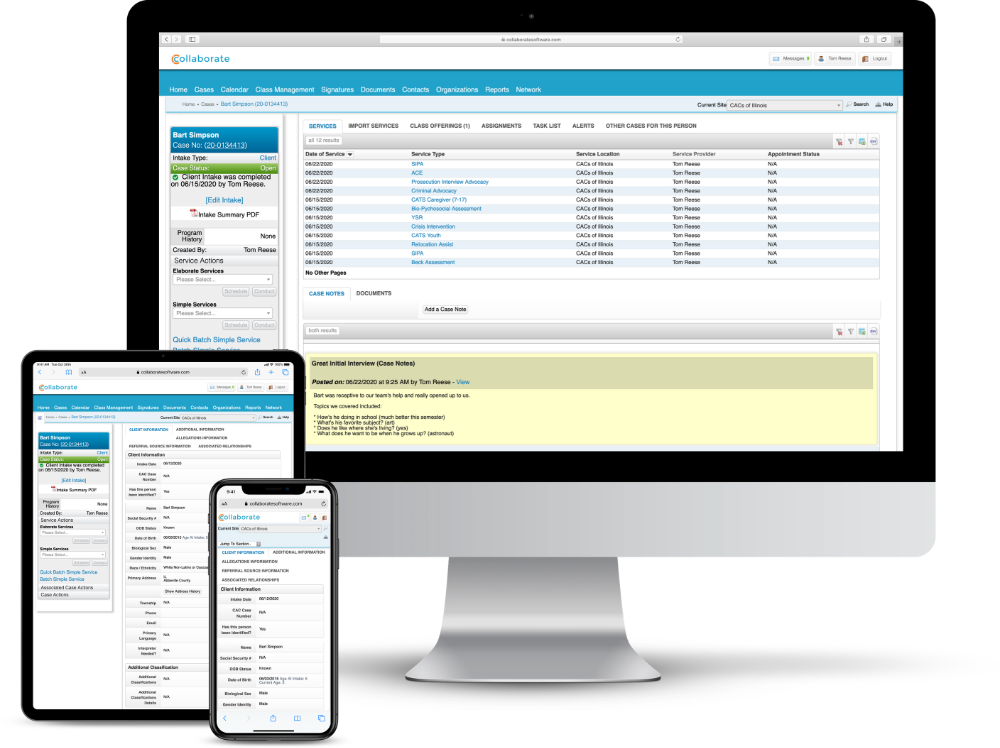 Collaborate is customizable case management software for non-profits and social services agencies.
Track case information, all the way through intake, providing services, setting goals, and recording outcomes
Go beyond the data with intelligent core features such as: case history, medical exams, test results, custom reports & more
Our award-winning web-based solution is secure & easy to use, whether a novice or a power user