Collaborate News
Illinois, New York Tap Collaborate for CAC Case Management
Ten statewide Children's Advocacy Center networks are now choosing "better data, better outcomes" with Collaborate.
---
Collaborate Community Flourishes with Trainings & Go-Lives Galore
Rapid expansion of better case management software will positively impact thousands of social workers, and tens of thousands of clients.
---
Hone Your Case Management Skills with Collaborate's Online Training
Users and Administrators of all ability levels can learn online from expert trainers.
---
Save Time, Money, and Paper with DocuSign Signatures
This Optional Module will benefit your clients and staff.
---
Former Executive/Clinical Director & Forensic Interviewer Ted Buckenham Joins Collaborate Team
CAC expert will train organizations to get the most out of Collaborate.
---
Enhance Your Security with Multi-Factor Authentication
Collaborate supports Multi-Factor Authentication (MFA). Here's why you should enable it.
---
National Children's Advocacy Center Adopts New Approach to Case Management
NCAC goes live with Collaborate, including some specialized clinical testing tools.
---
Helping Build a Kindred Community with the Exchange Club Family Center
Memphis-based family services organization is getting a big software upgrade.
---
South Carolina Picks Collaborate for Networks
SC's statewide CAC network embraces Collaborate, along with a state coalition committed to ending domestic and sexual violence.
---
Collaborate Welcomes Kentucky, Baltimore, and D.C. To The Family
The Kentucky Association of Children's Advocacy Centers, Baltimore Child Abuse Center, and D.C. Safe Shores kickoff their Collaborate implementations
---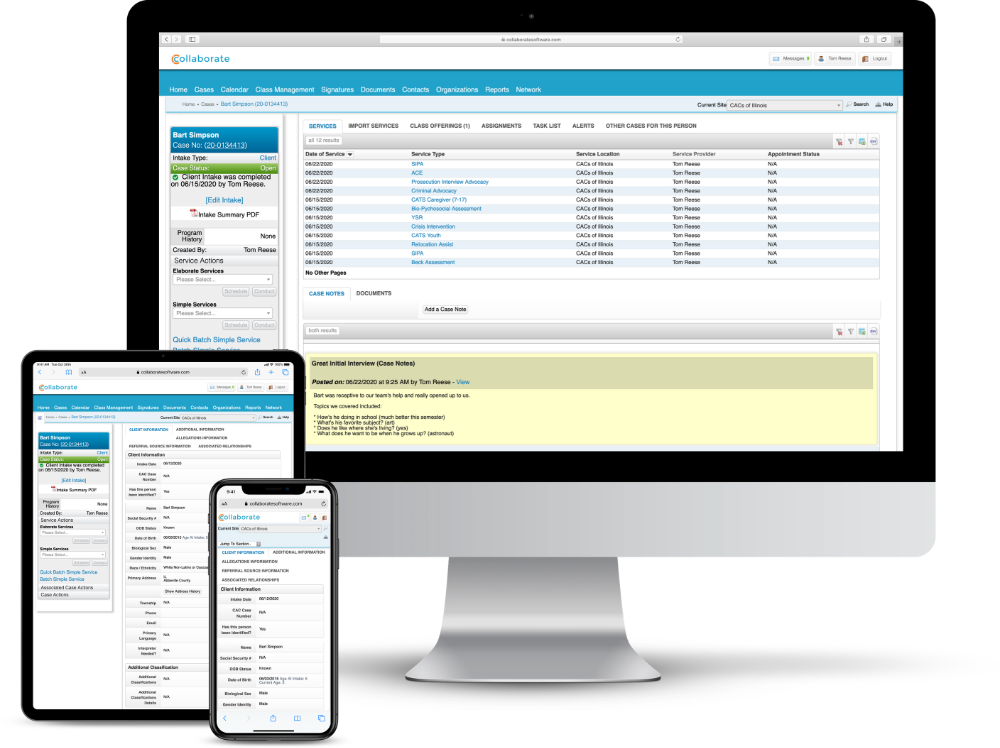 Collaborate is customizable case management software for non-profits and social services agencies.
Track case information, all the way through intake, providing services, setting goals, and recording outcomes
Go beyond the data with intelligent core features such as: case history, medical exams, test results, custom reports & more
Our award-winning web-based solution is secure & easy to use, whether a novice or a power user