Collaborate News
A Focus on the Wellbeing of Kids
Introducing 3 new Collaborate clients that have a positive impact on children and families that really need it.
---
Network Ninja donates $1000 to One Lucky Non-Profit!
What a fantastic week in Dallas at the 28th Annual Crimes Against Children Conference!
---
Introducing Collaborate for Networks
For groups that need to communicate and securely share sensitive data between other organizations that use Collaborate.
---
Collaborate Launch Insights for the Denton County CAC
With 40,000 cases, 400,000 services, and over 250,000 case notes!
---
Denver and Denton the Newest CACs Logging in to Collaborate
More and more organizations use Collaborate
---
CACDC Picks Collaborate
Children's Advocacy Center of Denton County Texas will use Collaborate to electronically manage all their programs.
---
Collaborate Launches Hope for the Warriors!
Hope for the Warriors is a non-profit that dedicates themselves to enhancing the lives of post 9/11 service members and their families.
---
Douglas County Department of Corrections nears launch
Collaborate will manage the re-entry, work release, and education programs for inmates in Douglas County.
---
Gaycenter Enters Development Phase With Collaborate
Every week 6,000 people visit the Center, and more than 300 groups meet there. We're proud to be working with them.
---
YMCA of Greater New York Chooses Collaborate
A community service organization which promotes positive values through programs that build spirit, mind and body.
---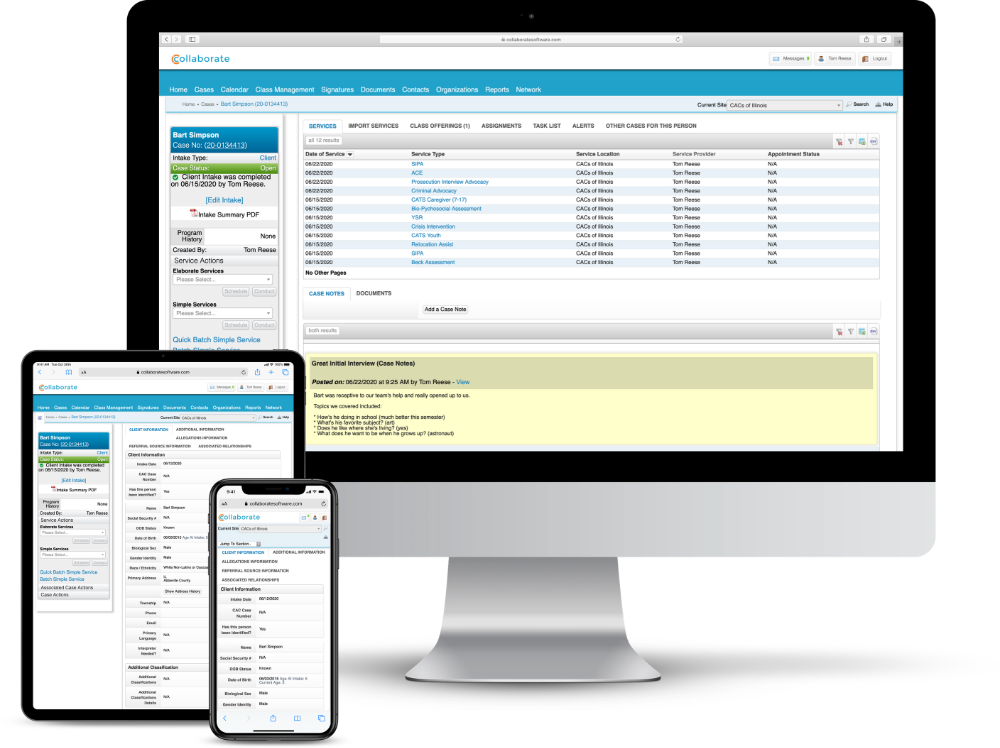 Collaborate is customizable case management software for non-profits and social services agencies.
Track case information, all the way through intake, providing services, setting goals, and recording outcomes
Go beyond the data with intelligent core features such as: case history, medical exams, test results, custom reports & more
Our award-winning web-based solution is secure & easy to use, whether a novice or a power user