Collaborate News
National Children's Advocacy Center Adopts New Approach to Case Management
NCAC goes live with Collaborate, including some specialized clinical testing tools.
---
Helping Build a Kindred Community with the Exchange Club Family Center
Memphis-based family services organization is getting a big software upgrade.
---
South Carolina Picks Collaborate for Networks
SC's statewide CAC network embraces Collaborate, along with a state coalition committed to ending domestic and sexual violence.
---
Collaborate Welcomes Kentucky, Baltimore, and D.C. To The Family
The Kentucky Association of Children's Advocacy Centers, Baltimore Child Abuse Center, and D.C. Safe Shores kickoff their Collaborate implementations
---
Baltimore CAC Celebrates Its Past, Stays Focused on the Future
The Collaborate team toured the Baltimore Child Abuse Center to kick off the Interview & Discovery process and attend their annual Be A Hero Gala.
---
Congratulations Are in Order for This Winning Child Advocacy Center
A lucky non-profit from this year's International Symposium on Child Abuse will be using their $1,000 winnings on new forensic interview equipment.
---
HIPAA Primer for CACs: It's Not Spelled Like HIPPO
Learn how HIPAA impacts Children's Advocacy Networks in our practical primer, which includes info in risk analysis and management, important security policies, and how Collaborate helps manage and maintain HIPAA compliance.
---
Quick Batch Simple Services, Courtesy of the Children's Advocacy Centers of Mississippi
When CACM asked for a more convenient way to record large groups of Client Services, the Collaborate team was up to the challenge. Now all Collaborate Users can benefit from a new feature called Quick Batch Simple Services.
---
Come See Our Joint Workshop with National CAC at the 34th International Symposium on Child Abuse
SAVE THE DATE! March 19-22, 2018, Huntsville, Alabama.
---
Universal Intake Is a Time Saver
From paper to online in less than 5 months.
---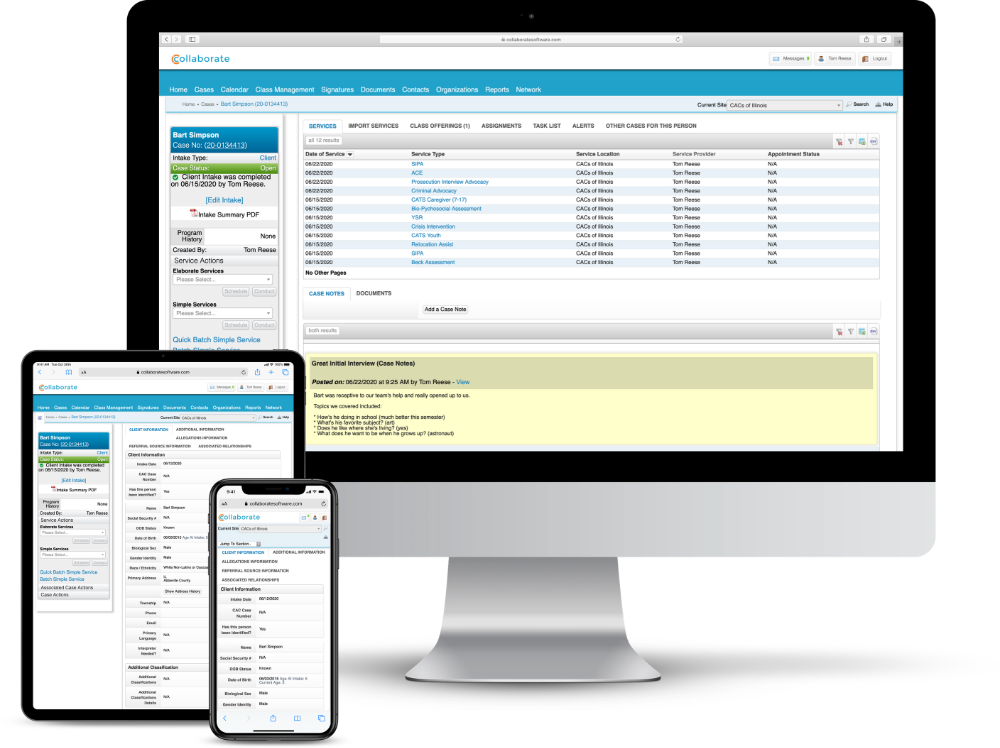 Collaborate is customizable case management software for non-profits and social services agencies.
Track case information, all the way through intake, providing services, setting goals, and recording outcomes
Go beyond the data with intelligent core features such as: case history, medical exams, test results, custom reports & more
Our award-winning web-based solution is secure & easy to use, whether a novice or a power user